East Ozark Bass Club

Pomme De Terre

Sept. 15th & 16th

Note from the President.

I want to start off this final tournament report of the year with a short note. I first and foremost of all want to extend my thanks and gratitude to each and every member of this fine club. If it was not for all of the great guys and gals we wouldn't have the best club in the state. Through out different tournaments and events of the club I have the great pleasure of interacting and getting to know each and every member. Everyone seemed to carry themselves in a very professional manner through out the year and that really added to the quality of our club. Anytime someone asks me who I fish with I am very proud to say East Ozark Bass Club, then I carry on to list the members. You all make the year very enjoyable. The competition that is brought to the lake by each and every one of you is a cut above the rest. I want each and every one of the members of this club to pat themselves on the back for making what we have one of the best.

In closing I want to extend a special thanks to a few people who deserve it. First and foremost I want thank our secretary, Kathy McNail. She has kept this club running smooth all year long, and not to mention she did very well in the points. Secondly, the other person that deserves a big hand is Larry Merseal. He has given up a lot of his free time, doing the interviews, taking pictures and helping me get this web site up and running. You are top notch Larry. Thanks. Also I want to list a few people that have been there for me all year, these guys have given me the support and insight to keep things going in the right direction. Without you all I couldn't of done it. Thanks to Jerry Hendrix, Randy Hulsey, John Hickman, Mike Harding, Eddie Bone, Jimmy Rawson, Randy McKinney, Kevin Manion, Reggie Crabdree, Mike Walker, Jon Jones, Craig Hulsey, Clarence Murphy and Helen Phelin. I am sorry if I left some one out. I could list the whole club. Again thanks to each and every one of you. I am looking forward to next year already.

Thanks

Dan McNail

President

East Ozark Bass Club

"TEAM RANDY" ICE THE CAKE!

Reported by: Larry Merseal and Dan McNail - Larry is sponsored by http://www.omegacustomtackle.com/

Twenty five teams showed up to fish the East Ozark Bass Clubs Classic tournament at Pomme.

After a perfect season, Team Randy put the icing on the cake. Our Classic Champs are Randy McKinney and Randy Hulsey.

On day one Team Randy focused on brush piles on the main lake to catch a nice limit weighing

14.50lbs. They used 3/4 oz. PBJ Crock-O-Gator football jigs to probe the brush in ten to fifteen feet of water. The key to their success was in their technique.(and of course, knowing which brush piles to fish) They stroked the 3/4 oz. jigs in and around the brush and managed to catch a pair of Pomme lunkers, one of which Hulsey boated for the Big Bass honors for day one. She weighed in at 5.74lbs. They also won the side pot for having the largest stringer on day one, which left the rest of the teams playing catch-up on day two.

With the clouds and wind forecast on day two, Team Randy decided to start out shallow with: rattle traps, square billed crankbaits, and jigs. They caught a small limit and went out to their deep brush in hopes of catching a kicker fish. Hulsey said;

"Our deep fish left us for sure".

So they had to settle for a modest limit and hope for the best at weigh-in. Turned out they had just enough, With a two day total of 21.88lbs. they won the Classic! Congratulations!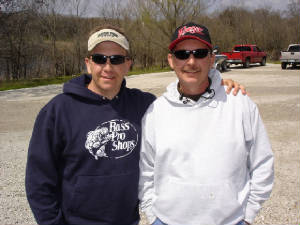 The one man team of Jim (Hootie) Rawson made the final weigh-in a real nail biter. Fishing by himself, Hootie had an impressive limit on day one, with five fish weighing 14.02lbs. Two of those fish were real dandys!, one of which won the 2nd Big Bass for day one weighing in at 5.14lbs. Hootie found a honey whole in practice on Friday. He was fishing a ditch in Coopers Cove, and used a 1/2oz. Davenport Special jig with a cin/pur trailer. Hootie said that there were laydowns in the area, but he didn't necessarily catch his fish on wood cover. He said; "The bass would just come in there and feed, and then move back out." Most of his bites came in eight to ten feet of water, and the bite would disappear by 9:30am. He fished this area the entire tournament in hopes of intercepting the fish when they came in to feed, but he came up a little short of a limit on day two with three keepers. Just ounces short of the leaders, his two day total was 21.54lbs.

Great Job!

Third place went to the DeSoto team of Don (Wappa/Radar) Politte and Larry Merseal. Don and I were on a pretty good brush pile pattern in practice, but it depended heavily on sunny skies. We threw texas, and carolina-rigged watermelon red baby brush hogs in, and around brush piles in ten to eighteen feet of water. We caught fifteen keepers on day one, but not one good one, so with our tails tucked between our legs we weighed in 7.94lbs. With a lot of ground to make up, we stuck to our pattern and hoped for the best. Most of our brush piles were on the main lake, but some of them were on secondaries. We just picked out our best ones and fished them thoroughly. With another small limit in the boat by 8:15am. we finally caught the break we needed. Wappa caught a good one (4.98lber.) on a carolina-rigged lizard. That one fish propelled us from the middle of the standings, all the way to third, and got Wappa Big Bass honors for day two. We had a limit weighing 11.02lbs. which was good enough for the side pot for day two also. Our two day total weight was 18.86lbs.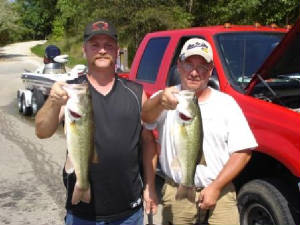 Fourth place went to Ron Missey of Tiff, and John Boyer of Potosi. They caught some fish early each day on texas rigged senkos the rest of the time they fished from ten to fifteen feet deep. They used carolina-rigged black and blue bruiser lizards on main lake points to catch most of their fish. Their two day total tipped the scales at 16.36lbs.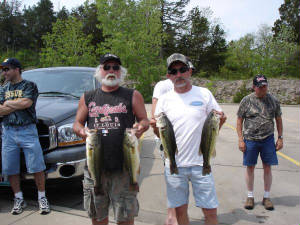 Fifth place went to Mark Garner and Larry Hastings with a two day total of 16.00lbs. Mark and Larry fished the Pomme arm both days, with most of their keepers coming on steep rocky points in one to eighteen feet of water. Mark said that the wind seemed to help their bite a little. They used crankbaits , and jigs to catch their limits.
Sixth place went to Kevin Manion and Lawrence Fulton with a two day total of 15.90lbs.

Seventh place went to John Jones and Craig Hulsey with a two day total of 15.84lbs.

Sorry! The sixth and seventh place teams go away before I could interview them.

Second Big Bass for day two went to Jerry Hendrix. A nice Pomme Pig, weighing 4.82lbs. Jerry said; "I caught her in six feet of water on a jig" Nice Job Jerry! I just knew I would finish my last report of the season by saying, "Jerry said."

I hope you'all had as much fun as I did this year. I can't wait until next season. Until then, I hope to see ya on the water.

Larry Merseal

Again thanks to all, and I want to announce that we will be having the award ceremony on October 6th. It will be held at Randy Hulseys' house. Dinner will be served at 5 p.m. and the awards will take place at 6 p.m. Cost will be 5 dollars a plate. I would appreciate everyone who is interested in coming to contact me and let me know how many will be in attendance. Everyone is invited to bring their spouses, and or significant others, or anyone you wish. If you need directions or have any further questions please feel free to contact me. 756-0083 or 747-8728.
Click LInk below for map to Banquet.