McKinney & Hulsey Go Out With a Bang!
Reported by: Larry Merseal - Larry is sponsored by Anglers Pro Shop and http://omegacustomtackle.com/
After a month of air temps ranging from 98 to 104 degrees the East Ozark Bass Club caught a little break on their last regular tournament of the 2007 season. With nineteen teams entered, the weather was more normal for this time of year, and the fishing was fair to good.
It was no surprise to see Randy McKinney and Randy Hulsey of Park Hills come to the scales with a nice bag of fish. I've interviewed these guys at nearly every tournament this season, and they are always a threat to win whatever event they enter to fish.
Their first place limit weighed 11.58 lbs., and they caught them all in skinny water in the mid-lake area. Hulsey and McKinney threw 1/2oz. chrome rattle traps and white/chart. spinnerbaits in less than two feet of water. They keyed on brush and baitfish.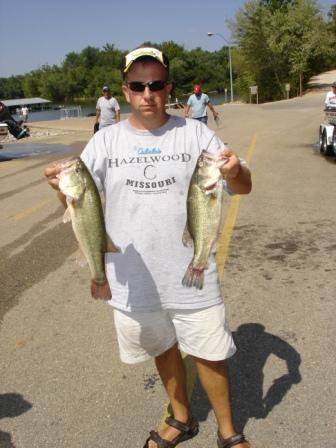 Second place went to Josh Wright of Bonne Terre and Duck Jones of Park Hills with a limit weighing 11.24 lbs.
They fished up the river and focused on shallow, shady banks. They caught'em on white buzzbaits and omega jigs in texas craw and black/blue. Duck said the buzzbait bite was real good up until around 11:00am, then they switched to the jig.
They also had the big bass of the day, a nice 4.44 lber! She fell victim to the buzzbait early in the day in about a foot of water.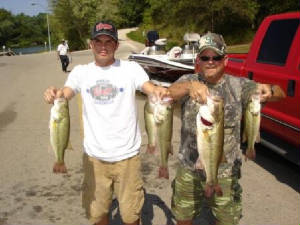 Third place went to the Farmington team of Jeff Johnson and Brian Hudson. Jeff and Brian fished the main lake all day, and caught most of their fish on rocky main lake points.
They used a variety of baits including: a ½ oz. chrome and blue rattle trap, a white spinnerbait, and a watermelon red carolina rigged lizard.
Unlike the others, this team reported catching their fish a little deeper, in that six to eight foot range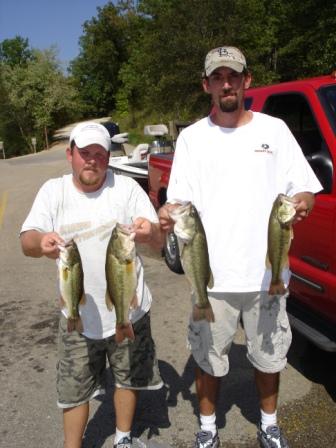 Kathy McNail had honorable mention bass of the day. A healthy 3.84 lber!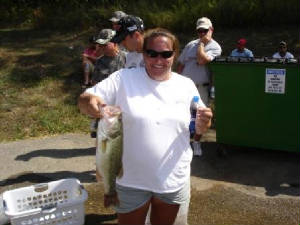 With the season finished , everyone is looking forward to the classic. For those teams who qualified, the classic will be held at Pomme De Terre on Sept. 15th and 16th . Check the club website for more info on the classic and upcoming meetings at http://eastozarkbassclub.tripod.com/
Hope to see ya on the water soon.
Larry Merseal - contact me at laredo1@sbcglobal.net