Location: Lake of the Ozarks
Reported by: Larry Merseal


May 6th, 2007 Lake of the Ozarks East Ozark Bass Club

Reported by: Larry Merseal. Larry is sponsored by Omega Custom Tackle Inc. and Anglers Pro Shop

Boyer and Missey Win It!

Twenty-one teams showed up for the East Ozarks last stop at Lake of the Ozarks. With bass in all phases of the spawning cycle, everyone was itchin to go fishin!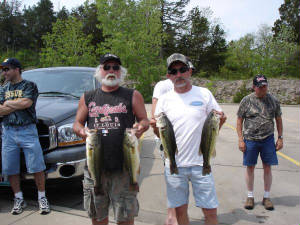 First place went to the team of John Boyer of Tiff, MO. and Ron Missey of Potosi, MO. They had a nice five fish limit weighing 15.02 lbs. Ron and John found their fish in the backs of coves in the Tan Tara area of the lake. They used carolina rigged lizards to catch all of their keeper, with the bite coming in four to eight feet of water.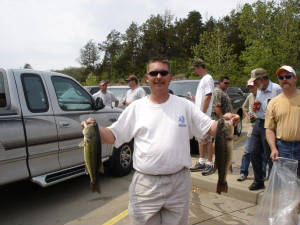 Second place went to Randy McKinney and Randy Hulsey of Park Hills, MO. with a limit weighing 14.88 lbs. McKinney and Hulsey started out throwing Pop-R's in the Glaize on primary and secondary points. They caught three of their keepers on the Pop-R's and switched to carolina rigged lizards to finish off their limit. These guys deserve a lot of credit. They consistently finish in the top five, and are currently winning the points race for Angler of the Year.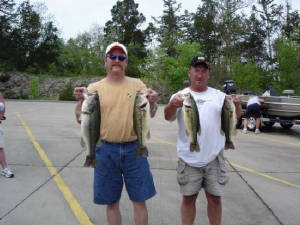 Third place went to Don Politte and Larry Merseal with a limit weighing 14.42 lbs. Don and I started out in the Glaize. We decided to concentrate on post spawn fish, and threw carolina-rigged senko's and wacky rigged senko's on main and secondary points. With a limit in the boat by 10:00am. we did some run-and-gun fishing on points on the way back to the ramp and managed to cull one of our keepers on a 7/16 brown Omega jig. We also had Big Bass for the event. A nice post spawner weighing 4.62 lbs We caught the fish in 8 to 10 feet of water on a carolina rigged 4" senko.

All in all the fish were biting pretty good early in the day, with the bite slowing up around 9:30am. The bass are in all stages of the spawn with about seventy percent of them being spawned out. There are still lots of males in the backs of cuts protecting fry, with most of the females out on points again. I did see a few Kentucky's at the weigh-in that were still full of eggs.