Date: 4/29/2007
Location: Clearwater
Reported by: Larry Merseal
Crabdree and Tucker Blade Their Way!
Beautiful weather freeted the East Ozark Club at the Piedmont access on Clear Water lake Sunday. With bluebird skies and temperatures rising into the mid 80's at weigh-in, most teams had to rely on an early bite to catch the better size keepers.
Clear Water is extremely low. Even with the heavy spring rains last week, the lake came up a few feet and they kept the dam running until it was at or below winter pool again. I've heard from several sources that they're keeping it drawn down due to the on-going construction on the dam.
With a 64 to 68 degree water temperature, I think the bass are ready to go on beds, but the fluctuating water temperatures have delayed the spawn. We saw a big decrease in our weigh-ins compared to this time last year. Let's hope they get the dam finished soon and maybe Clear Water bass fishing will improve.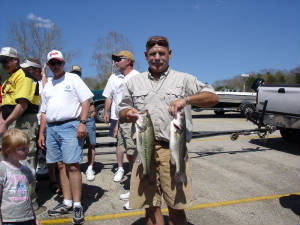 First place went to Reggie Crabdree(pictured above) and Steve Tucker with a nice limit weighing 14.38lbs. Reggie reported running up the river and catching a limit early on spinnerbaits. The team switched to brown jigs when the spinnerbait bite died and caught a few more keepers but weren't able to cull any of the spinnerbait fish. Most of their bites came in two feet of water or less.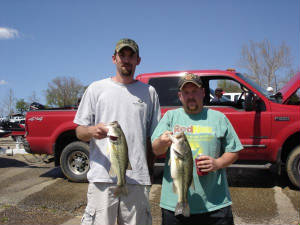 Second place went to the team of Bryan Hutson and Jeff Johnson with a limit weighing 10.44lbs. Bryan said they fished the Logan, Webb Creek area and caught most of their fish right off the bat in the morning on 1/4 oz. White and chart. Spinnerbaits in 4 to 6 feet of water. The team concentrated on rocky banks throughout the day. When the spinnerbait bite slacked off they caught a few more keepers on chrome rattle traps.
Sorry No Photo at this time.
Third place went to the team of Alan Ainsworth and Jerry Marlar of Farmington. They caught their limit by the dam using texas rigged 6 inch worms and carolina rigs from 2 to 4 feet deep. Alan and Jerry's bag weighed 9.24lbs. They also had big bass. A nice Clear Water 5.34 lber.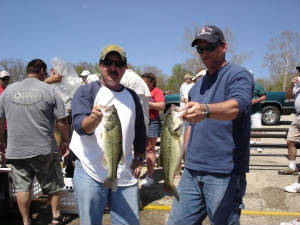 Fourth place went to Mark Bowers and Derrick Bennett. They left before I could interview them, but they had 9.06lbs.
Fifth place went to Randy McKinney and Randy Hulsey. Their weight was 8.32lbs. They left before I could interview them.
Honorable mention goes to John Hickman with a nice bass weighing 4.68lbs. He caught the bass on a rocky point with a carolina rigged lizard.
If the bass get some stable conditions this week, they will be on beds by this weekend, with the full moon to help. I saw a few fish cruising, one of which was a 4lber. I did not see any beds.
I hope this report will help someone.
See Ya on the Water.