Reported by: Larry Merseal :Larry is sponsored by Anglers Pro Shop and http://www.omegacustomtackle.com/

Hulsey & McKinney Stroke It Rich!

East Ozark Bass Club fished through a blistering hot and humid day at Pomme de Terre; our 7th tour event of the season. Between the heat and the recreational traffic, I think most of the club were wishing that this had been a night tournament.

Eighteen boats showed up at the Hermitage ramp for the 6:00am take-off. Most of the teams struggled to catch bass, as only two limits were brought to the scales. High pressure ruled the day; but someone always catches them, and it's usually these guys.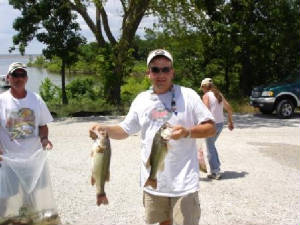 Randy McKinney & Randy Hulsey
First place went to the Park Hills, MO. team of Randy Husley and Randy McKinney whose limit tipped the scales at 13.30 lbs.

Team Randy always seem to find the fish and figure out how to make them bite. Even after a rough nights sleep on a hard bed in a dive motel (I know, I stayed there too!), they still stayed "In the Zone" to catch seven keepers. They fished the Pomme arm and keyed on brush piles in 15' of water using a brown half oz. Crock-O-Gator Buggy Jig, matched with a Chompers green pumpkin twin tail trailer.

Hulsey reported that all of their keepers came from brush on the main lake. " You had to be in the brush to get bit." The key to their success was in their technique. "We stroked the jigs in three foot hops and they would hit it on the fall as it fell into the brush."

Good job guys!, and sorry about the motel. Team Randy also had 2nd big bass weighing 4.52lbs.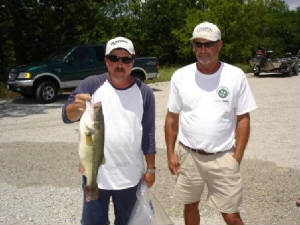 Mark Browers & Mike Hardy
Second place went to the Arcadia, MO. team of Mark Browers and Mike Hardy with the second limit weighing 11.14 lbs.

The fished the Pomme arm all day and stayed within five miles of the dam. Mark reported catching their fish way out off the ends of main lake pea gravel points. They used green 10 inch worms with the bite coming from 10' to 15' deep. Mark and Mike also had Big Bass of the day, a nice 5.58 lber.

After catching close to 25 lbs. The day before, they were a little disappointed. Mark said they had a stellar pre-fishing day with one of their fish weighing around eight pounds!

Mark said; "You just can't catch those quality fish like that the day before the tournament and expect to catch them again the next day.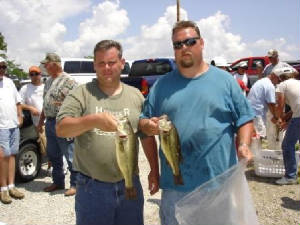 Dale Mosier & Monty Boyer
Third place went to Monty Boyer and Dale Mosier of Park Hills, MO. with 4 fish weighing 8.18lbs. They fished all over the lake, concentrating on main lake bluffs and channel swings.

Their fish came in 15' to 20' of water and fell for the Crock-O-Gator "Zapper" jig, and a wacky rigged trick worm.
The next East Ozark Bass Club tournament will be at Wappapello, Chaonia boat ramp from 6:00am to 2:00pm. Find out more about the East Ozark Bass Club by going to http://eastozarkbassclub.tripod.com/

See Ya on the Lake! Larry Merseal